Outdoor Activities: Franke Park.
As the weather turns and the days get shorter it is more important than ever for us to make getting outside into the fresh air a priority for us and our children, taking care of our physical and mental health. 
Fortunately for us living in the Fort Wayne area, there are many fun safe outdoor spaces throughout our community. Today, Trees Indiana will be showcasing one of our favorite outdoor spaces: Franke Park!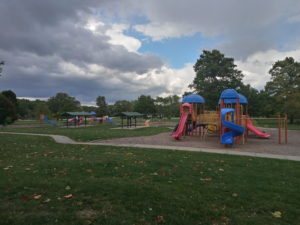 Established in 1921, Franke Park is a familiar landmark of the Fort Wayne area, providing visitors with a host of amenities including the Day Camp, an outdoor theatre, 3 pavilions, a pond, a playground, the Fort Wayne Children's Zoo, picnic areas, trails, and lots of open space. (site http://www.fortwayneparks.org/38-parks/park-page-links/168-franke-park.html)
It is the perfect place to take children for an afternoon in the open air, or just to take a walk or a run through the trails, letting the peace of nature seep into you. 
Speaking of which…
After much consideration, we are pleased to announce that the 7th Annual 2020 Trees Trail Challenge is now open for registration, with a few key changes this year to accommodate the safety and preferences of our running community during this time of the global pandemic. 
In short, we will be marking the course extra well this year and will offer the choice of running at a day and time of your preference (Oct 31-Nov 1) and reporting your results to us – a sort of "Virtual" race but on an existing well-marked course – or attending a Live In-Person race event (Nov 1) with a start-finish area, non-chip timing, and a field of other runners, with social distancing considerations in place of course. Please visit our website at https://treesrace.org to learn more about these two options. 
Our registration fee this year is largely donation-based, as fundraising is our sole purpose for this annual event, and this is a very difficult year for non-profits to raise operating funds. If you are unable to participate but support the mission of Trees Indiana, please consider a donation instead.
We hope to see many returning runners participate in the 7th annual Trees Trail Challenge and hope that the running community will be patient and understanding as we navigate the challenges this year has presented to us.  
Find more information, registration, donations, and past event photos at https://treesrace.org.
Author: Nanette Ambrose 
/wp-content/uploads/2016/04/main_logo.png
0
0
Nanette Ambrose
/wp-content/uploads/2016/04/main_logo.png
Nanette Ambrose
2020-10-05 14:33:55
2020-10-05 14:33:55
Outdoor Activities: Franke Park